The Entertainer has more than 110 stores in the UK, and stocks thousands of products online at TheToyShop.com.
With 30 years experience in the retail industry, there's not much we don't know about toys.
We're experts in what kids love, and our winning combination of fair prices and excellent customer service means we're a favourite with mums and dads too.
Our history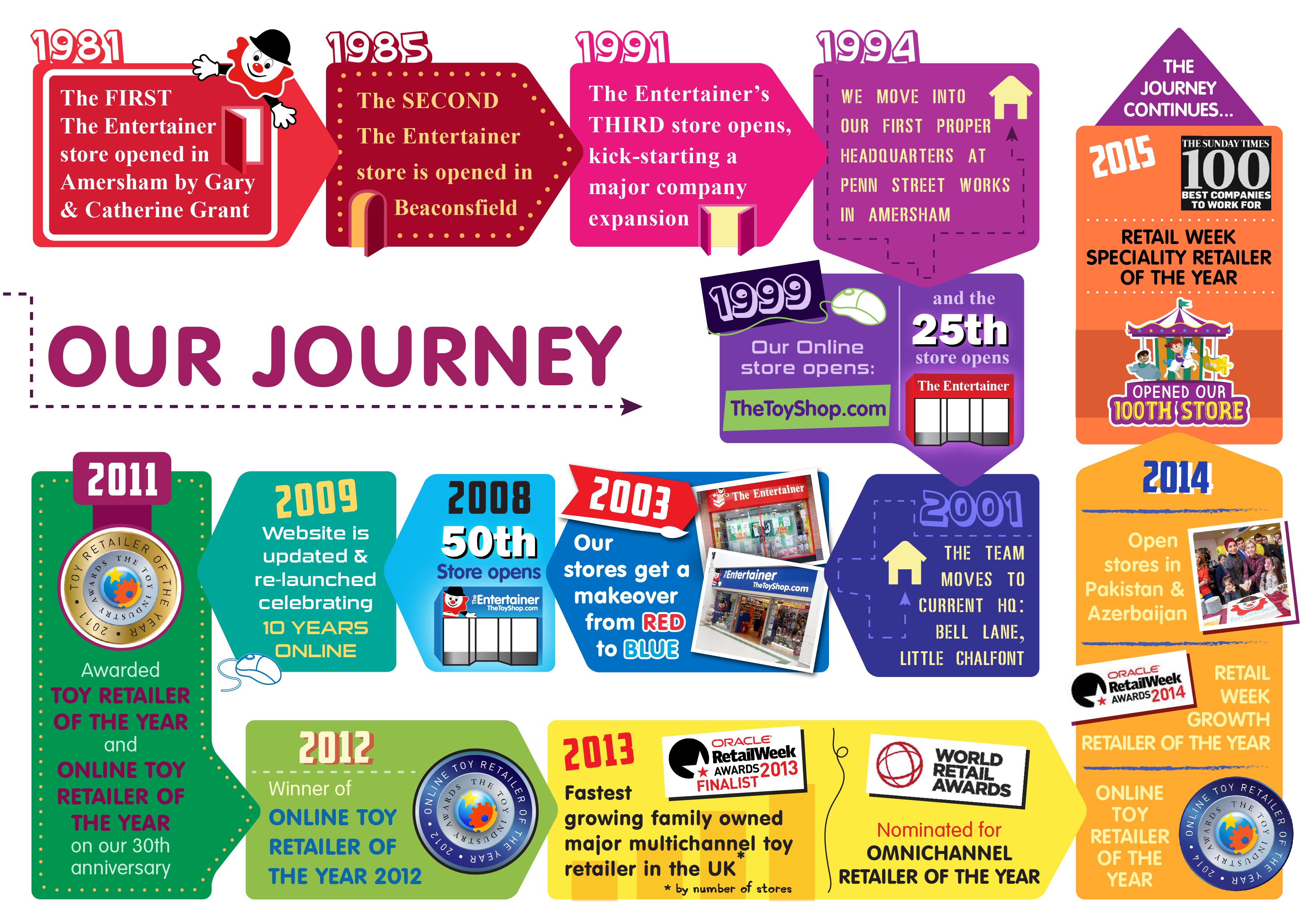 Husband and wife team Gary and Catherine Grant founded The Entertainer in 1981 when they opened a local toy shop in Amersham, Buckinghamshire.
Fast forward to today and The Entertainer is the biggest independent toy retailer in the UK and growing at an average of one new store per month.
Our team
Gary is still heading up The Entertainer team, but it's grown considerably since the early days.
More than 900 people work in our stores and a further 100 are based at our head office in Amersham.
At Christmas the team swells to over 1,000, with an additional 700 Christmas Crew recruited for our busiest time of year.
The Sunday Times Top 100 Companies
It's official – The Entertainer is one of the best companies to work for in the UK!
We made the top 100 in 2015, ranking 82nd in The Sunday Times newspaper's prestigious list - a testament to our success and mission to be 'The best loved toyshop one child, one community at a time'.
Here are three reasons why we were chosen for this exclusive club:
Leadership: Our MD, Gary, takes a very hands-on, personal approach and his enthusiasm trickles down into the rest of the business. He'd rather talk about 'toys' than 'SKU's' and takes an interest in every individual.
Giving something back: Our shops have an open budget to donate to charities and raise funds through raffle and competition prizes.
Also, both stores and head office are very active in work placements, helping people back into work or gain valuable experience for their CVs.
Fair deal: Our practical, on-the-job training modules ensure pay increments are rewarded to employees based on performance and hard work. For example, when a team member passes a module their hourly rate of pay is increased.